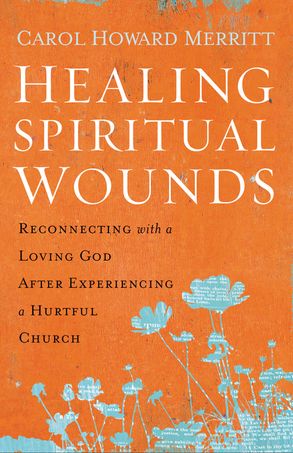 Parts of this book were a little bit hard to read – but there are some stories that I'm just not going to tell because the people involved aren't dead yet. When I am old, I will enjoy telling all the stories. In the meantime, I read other people's stories. Carol's story is evocatively written, moving, and sometimes quite surprising. Her prose is, as always, intelligent and approachable, and periodically poetic. Each chapter ends with thoughtful exercises that take the things Carol is writing about and makes them into concrete practices.
Anyone who knows me can probably tell you that I don't usually read memoirs, as a general rule. Maybe it's jealousy, since I haven't lived an interesting life and don't think anyone would want to ready my memoir. I'm neither old nor important, so it hardly seems like the time. While Healing Spiritual Wounds is not a memoir as such, it is framed as a reflection on Carol's own life and experience that unfolds to include what she has learned on her journey that might be helpful to others.
The way that Carol writes is a sort of gestalt – you have to read through the whole book to get it. It isn't one that is easy to review in the future by skimming notes or main topics, because it moves around in time and flows along the lines of Carol's recollections from various parts of her life – as an adolescent, as a student at Moody Bible Institute, as a full-time pastor in the D.C. area, and so on. That's why it isn't a memoir, though it draws on memoir – the text follows the process of healing, drawn from Carol's experiences of healing and then abstracted out a step in the hope that she can help others heal.
This book is therapeutic – I bet it was therapeutic to write, and it is intended as therapeutic, as a vehicle for healing. In my own case, my wounds are different. I don't share the story of needing to recover from trauma at the hands of conservative Christianity that so many others have, a fact for which I am thankful. I still got a lot from reading Carol's book – it was therapeutic to read. And from what I know of healing, I think that this book could indeed prove therapeutic to a wide variety of people in addition to its intended audience of people harmed by their religious past. Even if you are not seeking healing from spiritual wounds, Carol is an excellent writer, and in her story you might find healing for other wounds as well. Even if you aren't looking for help in healing, Healing Spiritual Wounds is a well-written and thoughtful book that approaches painful experiences with grace, whether Carol's experiences or your own.
(I know that I'm supposed to refer to authors by their last name, but Carol is my buddy. Don't hold it against her.)