Why Tear Them Down?
There are so many reasons to tear them down. They were erected primarily to intimidate black people in the South. Monuments went up at times we can best understand by looking not at the history of the Civil War but at the history of the Civil Rights struggle in the South. Preserving them has nothing to do with preserving history – books exist, and there is no chance of erasing the Civil War from American history, which is something that precisely no one wants to do. Confederate monuments do not preserve history, but they do seek to preserve white supremacy.
The Southern Poverty Law Center studied Confederate monuments and concluded that they are overwhelmingly placed in order to support white supremacy. 
Who is defending them? We have recently seen in Charlottesville and elsewhere that Nazis, the KKK and other white supremacist terrorist groups are the ones literally up in arms defending the Confederate legacy. Those are the people who are stepping up to defend these monuments – all the more reason to tear them down. Nazi support alone is a reason not to do something, and if we find symbols that Nazis and the KKK feel they can rally around, we should tear down those symbols and replace them with symbols that, ideally, Nazis and the KKK will detest.
The South Has A Lot to Be Proud Of
Maybe it's hard, sometimes, for some Southerners to find things to be proud of, but I think that's only because a significant number of them insist on trying to be proud of the Confederacy. It's like a Robert DeNiro fan insisting on being a fan of The Adventures of Rocky and Bullwinkle, or insisting that Ben Kingsley's greatest film was The Love Guru. The same people who decry participation trophies seem to desperately want to erect monuments to that time they were on the wrong side of history and lost a war. I have a lot of family in the South, and they don't have to dig around for something to be proud of, nor do they need Nazis and white supremacists to tell them about their heritage. 
The Right Side of History
Most of the people who risked the most, fighting on the right side of history during the Civil Rights Movement, were Southerners. All Southerners can be proud of what black Southerners have fought for and achieved, and of the white Southerners who marched and fought beside them. But the people who showed the greatest courage, and fortitude, and restraint, and who achieved the most progress in the Civil Rights Movement of the 50s and 60s were Southerners. Where do you think they learned the values that carried them through that struggle? Where did they learn to fight like that?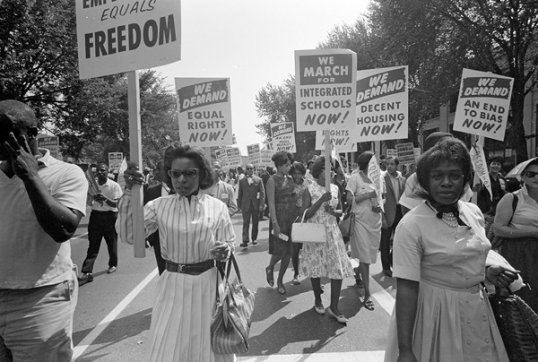 American Music
American music has largely been defined by the South. Jazz, blues, bluegrass, country, folk, gospel and rock music all originated primarily in the South. While hip-hop originated in New York and LA, multiple strands and sub-genres have developed in the South. Most of the music we hear every day would not exist without Southern artists, and that has been true for at least a century.
Natural Beauty
The South includes places of incredible natural beauty. The Gulf coast, the Ozarks and Appalachian mountains, the Florida Keys, the barrier islands of the Atlantic coast, Daniel Boone National Forest, the bayous and waterways of Louisiana, the Craggy Gardens of North Carolina, and more. The South is beautiful, whether you like historic places or natural beauty. If we made more of these beautiful places into state or national monuments, it would also protect them for generations to come.
Writers and Storytellers
Many of the best American writers and storytellers have been, and are, Southerners. You might think of William Faulkner or Flannery O'Connor, or more recently Cormac McCarthy. We could be here all day listing great Southern writers, and the novels that many consider to be "great American novels" are largely representative of the South as well. In many ways, the voice of American storytelling is a Southern voice.
Tear Them Down and Replace Them
Of course people in other parts of the country have things to be proud of as well. They have music and art and natural beauty and their own history of struggle. That isn't the point. The point is that the South does not need Nazis and the KKK and other white supremacist bigots to tell them what to be proud of. They don't need white supremacist bigots to stick for them or tell them how to honor and protect their heritage. And they definitely don't have to fall back on the Confederacy as the last great Southern moment. The South is good. The South should be proud. Just not proud of white supremacy and slavery.
So tear every Confederate monument down, and replace each one with something to truly be proud of.